Modern Occupant Experience
Connecting people to buildings for greater productivity

Modern Occupant Experience
Connecting people to buildings for greater productivity

Modern Occupant Experience
Connecting people to buildings for greater productivity
At JMS, we CONNECT people to buildings for a modern occupant experience enabling more control over your environment and more PRODUCTIVITY than ever before. The way it should be.

The ECLYPSE Sky Ecosystem from Distech Controls leverages Bluetooth® communication technology, allowing occupants to easily manage comfort settings within their space via technology they are familiar with, such as a mobile device or app.

A modern occupant experience safely and securely puts tools in the hands of authorized occupants that allow them to do their jobs better. Employees can control their workspace. Teachers can control their classroom. Guests can manage the environment in their guestroom. There are many other applications that make your building more connected and more productive.
FEATURES of
ECLYPSE Sky Ecosystem for a Modern Occupant Experience
The Allure UNITOUCH™ is a cutting-edge touchscreen sensor with an inviting user interface and a contemporary design. The Allure UNITOUCH senses temperature, humidity and CO2, and gives occupants control of HVAC, Lighting, and Sunblind applications. The touchscreen is easy to view and simple to use. It can even be controlled from an occupant's phone via Bluetooth®.
The award-winning Allure UNITOUCH features a modern, user friendly design that enhances any space in modern or classic archtecture.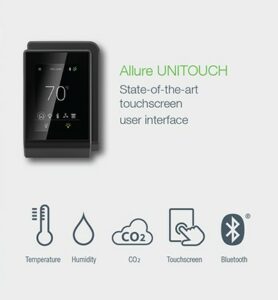 myPersonify MOBILE APPLICATION
myPersonify is an intuitive mobile application that gives occupants control of temperature, fan speed, lighting, and shades. Running on Android OS 5+ or Apple iOS 10+ leveraging Bluetooth®, myPersonify connects with Allure UNITOUCH and EC Multi Sensor BLE putting modern capabilities in the hands of building occupants.
Occupants can save, edit or remove pre-set room preferences to customize space comfort settings and the user interface. Rooms and workspaces can automatically detect "favorites devices" to connect to most frequently used devices. Users can visualize the environmental impact of comfort settings. Occupants can select from pre-defined settings such as presentation mode or meeting mode.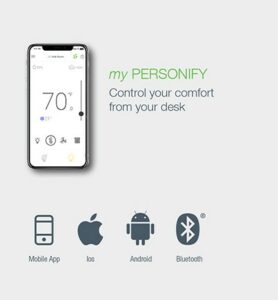 The EC-Multi-Sensor-BLE is a compact, "4-in-1" communicating device. With just one wire and one connection, this compact device effectively combines (1) a motion detector, (2) a light sensor, (3) a temperature sensor, and (4) a Bluetooth® low energy technology transceiver for the wireless control of comfort from a mobile phone.
The EC Multi-Sensor-BLE achieves energy savings through occupancy-based controls during unoccupied periods, as well as luminosity setting to adjust lighting levels at any time.
The UNIWAVE Series is a new range of modern wireless interfaces which allows users to manage all comfort settings for a room. This technology is available in a remote-control version for control directly from your desk or as a wireless wall-mounted sensor which is particularly suitable for renovation or retrofit projects or areas where wiring is impossible.
Some predefined settings, such as projection mode, can be activated in only a few clicks. Control lighting, blinds, temperature, and fan speed.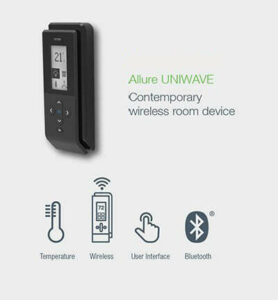 JMS partners with Distech Controls, Tridium and others to deliver truly open, integrated solutions. The way it should be.