Fully CONNECTED building automation for a world class occupant experience and facility operating environment

Fully CONNECTED building automation for a world class occupant experience and facility operating environment

Fully CONNECTED building automation for a world class occupant experience and facility operating environment
Since 2007, JMS has served Texas building owners, facility managers, and building engineers by delivering the most open, integrated Building Automation solutions in the market. The Distech Building Automation Product line plays a big part in our customers' success.

Distech digital building management tools like remote web access, mobile apps, and personalized dashboards keep JMS customers CONNECTED.

Customers can leverage the full capabilities of BAS tools and access all their data through a COLLABORATIVE relationship with JMS. We design and install systems aligned to your expectations, provide full system documentation, and train your staff on the use of the system.

JMS solutions make the people in buildings more PRODUCTIVE. Mobile apps allow control of their environment or access to building services such as conference room reservations or even ordering lunch. This is an increased level of satisfaction that leads to greater focus, collaboration, and retention. That's PRODUCTIVE.
Main FEATURES
of JMS Building Automation Solutions
Click these Building Automation solutions to learn more
ECLYPSE IP CONTROLLER SERIES
The ECLYPSE Connected BACnet/IP and Wi-Fi HVAC Controller Series provides powerful connectivity, and advanced control, monitoring and analysis for your CONNECTED buildings.
The ECLYPSE BACnet/IP Controller Series is designed as a modular, scalable platform for HVAC applications. Each controller in the series is a BACnet Building Controller providing an on-board, browser-based user interface with system graphics, trending, reports and alarms. Each controller can act as a standalone building automation system or seamlessly integrate into a larger system. 
IP Wired and IP Wireless connectivity offer flexibility to connect everything in your building. Facility managers and technicians can connect to the system from anywhere through the ENVYSION user interface or mobile apps.
BACnet and LONWORKS controllers for HVAC to control equipment such as air handling units, chillers, boilers, pumps, and cooling towers. Lighting control and power measurement applications are also available. This family of HVAC Controllers makes it possible for BACnet and LONWORKS equipment to operate and communicate seamlessly on a single building operations network.
ENVYSION is the on board graphical user interface for the ECLYPSE controller series. ENVYSION is also available as an added feature for the EC-NET JACE controllers and EC-NET Supervisor. ENVYSION delivers actionable, visual knowledge, providing building owners and facility managers analytical tools, customizable dashboards, built-in playback functionality, alarm consoles, and trend data graphing to manage buildings more efficiently. The result is lower facility operating expenses and increased occupant comfort. 
The ECY-STAT gives building operators visibility and control over spaces that were once out of reach. Two examples are portable classrooms in K-12 schools or Lite Commercial buildings, located around a city state, or even nationally, that are part of a larger business. This is possible with the simple to install ECY-STAT, the Mobile App, and either wired IP or Wi-Fi connectivity. 
The ECY-STAT packs big benefits for cost savings, energy conservation and operations into an open, elegant solution.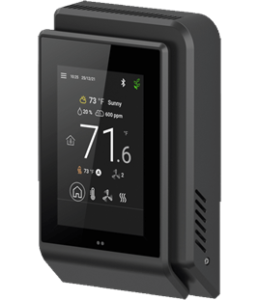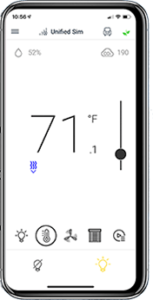 JMS connects people to buildings with Mobile Applications, providing flexibility and convenience to both building occupants and facility personnel.
Unlike many other BAS systems, our Mobile Applications require no programming within the BAS system. The Mobile Applications are fully functional with simple configuration to select rooms or equipment for monitoring and control via the applications.
Occupants can customize their workspace comfort settings by connecting directly to their zone through a mobile app. Facility personnel have mobile access to system controllers with functions like diagnostics, set point changes, scheduling changes, overrides, commissioning and more.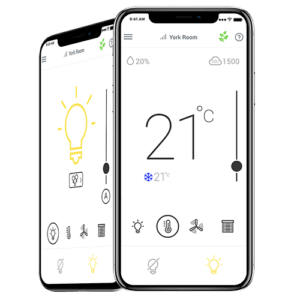 myPersonify Mobile App enhances PRODUCTIVITY enabling building occupants to manage comfort settings in their environment by adjusting temperature settings, lighting levels, and blind control, all from their mobile device.
Talk to JMS about other mobile apps that can greatly enhance the PRODUCTIVITY of your team.
Embedded in ECLYPSE controllers, the RESTful API opens your building to the modern conveniences of web services. With the ability to create custom Mobile Apps, Dashboards and Analytics your building delivers an occupant experience and operator efficiency that is truly PRODUCTIVE. The way it should be.
The API is fully documented allowing you and JMS to COLLABORATE on development of mobile apps and tools that enhance your occupants' experience and increase productivity for building staff. New mobile apps or additions to your existing mobile apps can be developed.
JMS smart room control is nothing short of a Modern Occupant Experience. More than just a smart sensor, our solution is an entire integrated smart room architecture that resides above the ceiling, on the wall, and in the palm of an occupant's hand.
Other innovative, connected building automation equipment allow JMS to create the perfect smart room environment anywhere people work, learn, worship, heal, and relax. These products include BACnet and LON controllers for VAV and Terminal Unit applications, as well as Lighting and Blind Control applications.
JMS delivers a Modern Occupant Experience for markets like Office Buildings, Education, Healthcare, and Hotels with ECLYPSE Sky Ecosystem. A smart sensor, the Allure Unitouch; the EC-Multi-Sensor sensing motion, light and temperature; and the myPersonify app work together for an interactive, high-comfort occupant experience. READ MORE
JMS partners with Distech Controls, Tridium and others to deliver truly open, integrated solutions. The way it should be.